Drama Boys Before Flowers memang tengah menjadi buah bibir kalangan anak muda diberbagai belahan penjuru dunia saat ini. Drama berseri Korea ini semakin heboh ketika dibalik pembuatannya telah terjadi sebuah misteri yang menyatakan ke-empat pemeran utamanya telah mengalami kecelakan selama masa pembuatan dramanya.
Blog Karo Cyber Community juga tidak sudah beberapa kali membuat berita-berita seputar Drama Boys Before Flowers, mulai dari yang pertama adalah tentang Drama Boys Before Flowers, Video dan Sinopsis Boys Before Flower, dan kemudian membahas tentang Sinopsis Before Flowers Episode 3 dan 4, Sound Track Drama Boys Before Flowers dan kali ini membahas tentang foto-foto saat Syuting Drama Boys Before Flower.
Berikut ini beberapa adalah Foto para pemain Boys Before Flowers yang didapatkan blog Karo Cyber yang bersumber dari website boysbeforeflower.com


Foto Pemeran Boys Before Flowers
Bagi anda yang ingin terus mengikuti perkembangan berita seputar Drama Boys Before Flowers, ikuti terus blog ini, yang terus akan mengulas seputar drama yang sedang hangat-hangatnya dibicarakan tersebut.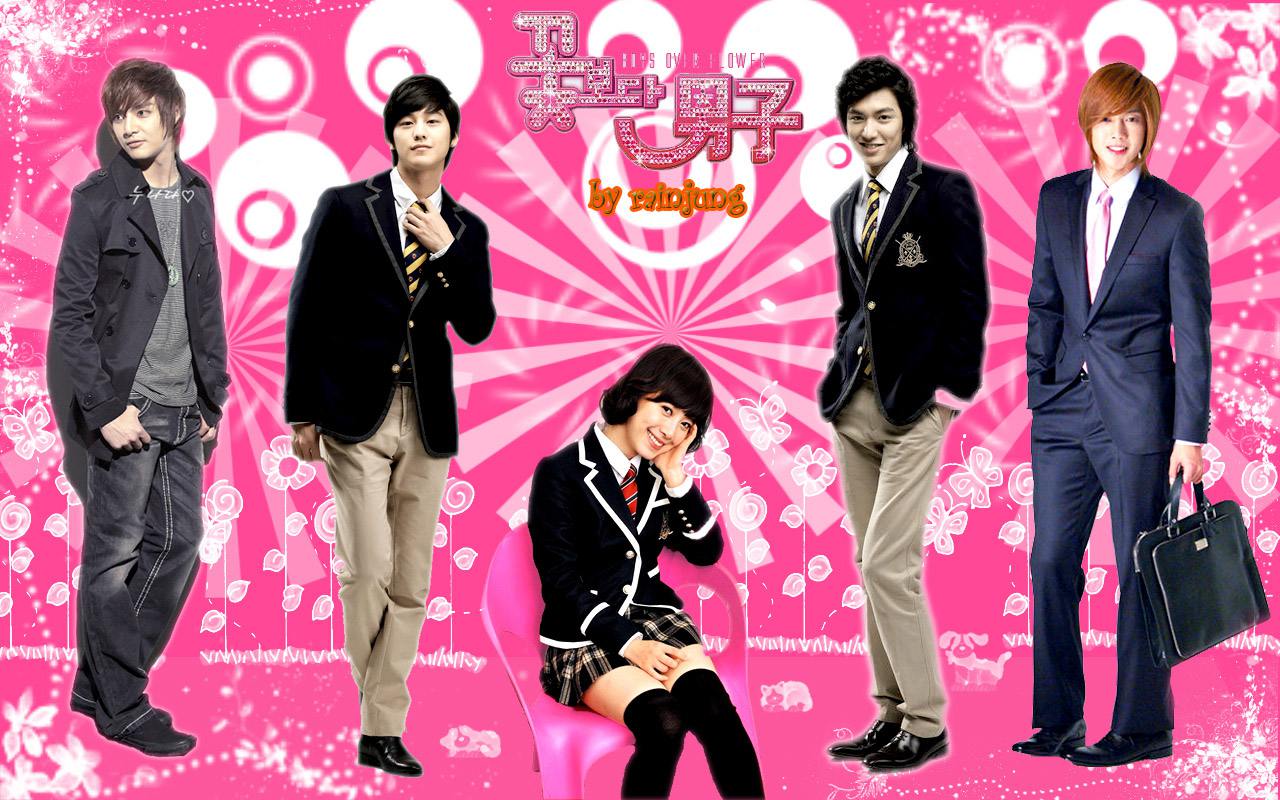 Boys Before Flowers

merupakan drama terbaru Korea yang akan tayang di stasion TV Indosiar Semenjak 1 Juni 2009. Drama Korea Before Flowers adalah sebuah Drama Meteor Garden versi Taiwan dengan adaptasi dari manga Hana Yori Dango.
Yang menjadi heboh tentang Drama ini adalah, bahwa Boys Before Flower atau Boys Over Flower dan dalam bahasa Koreanya adalah Kgotboda Namja ternyata menyimpan sebuah mister kutukan.
Selama proses produksi serial yang menyebabkan demam Boys Before Flower di Korea ini berlangsung, sudah empat pemain mengalami kecelakaan mobil, kebetulan keempat pemain tersebut merupakan pemeran utama drama Meteor Garden versi taiwan tersebut.
Tiga pemeran utama Drama tersebut yaitu personel F4, yakni Kim Hyun-joong, Kim Bum, dan Kim Joon, serta pemeran utama wanita, Goo Hye-sun, yang berperan sebagai Geum Jan-di (versi Taiwan bernama San Chai). Kecelakaan terakhir menimpa Goo Hye-sun, yang terjadi pada 28 Februari lalu, dan membuatnya harus dirawat selama beberapa hari di rumah sakit.
Belum selesai keterkejutan pemirsa, pada 7 Maret lalu atau sepekan setelah peristiwa kecelakaan Goo Hye-sun, Jang Ja-yeon, pemeran Sunny, satu dari tiga gadis kaya pengganggu Jan-di, tewas gantung diri di rumahnya di Bundang. Kakaknya menemukannya pada pukul 19.30 waktu Korea. Ja-yeon, 27 tahun, gadis lulusan Chosun University--universitas tertua dan prestisius di Korea Selatan - dilaporkan mengalami depresi berat sejak kedua orang tuanya tewas akibat kecelakaan mobil sepuluh tahun lalu.
Namun, teman-teman terdekatnya mengatakan Jang Ja-yeon mengalami banyak masalah dengan manajemennya, terutama yang berkaitan dengan proses pembuatan serial Boys Before Flower. Beberapa jam sebelum tewas, ia menelepon temannya dan mengatakan, "Masalah ini terlalu sulit dan saya ingin mati."


Juli 2, 2009 – 2:18 am
Boys Before Flowe
From DramaWiki
Details
Title: 꽃보다 남자 / Kgotboda Namja
Also known as: Boys Before Flowers / Boys Over Flowers
Genre: Romance, comedy
Episodes: 25
Broadcast network: KBS2
Broadcast period: 2009-Jan-05 to 2009-Mar-31
Air time: Monday & Tuesday 21:55
Related Series: Meteor Garden, Hana Yori Dango, Liu Xing Yu
Synopsis
Jan Di is an average girl whose family owns a dry cleaning store located near the luxurious and well known Shin Hwa College. Jan Di meets the four richest and most spoiled boys known as the F4. After saving a boy from jumping off the roof of Shinhwa High School, she is admitted into the school on a swimming scholarship. Jan Di tries to avoid confrontation with the F4 at all cost because she knows what happens to those that stand against them. However, when Jan Di's friend, Oh Min Ji, accidentally gets ice cream on the leader of the F4's shoes, she's forced to declare war on the leader of the F4, Goo Joon Pyo.
Cast
F4:
Extended Cast
Production Credits
Episode Ratings
see Boys Before Flowers/Episode Ratings
Recognitions
Notes
The cast and crew spent a week filming in the South Pacific in New Caledonia and on Waiheke Island. Filming also includes Macau and Jeju Island.
Due to Koo Hye Sun's injury, Group Eight decided to air a Special on 2009-Mar-02 and the 17th Episode aired the day after.
External Links
Boys Before Flowers - Yi Jeong FanArt
Credit: LunarSea
"Boys Before Flowers - Wallpapers"
Credits : goes to those who made the cartoon version & to piggy@stupigity (for the wallpaper)
Boys Over Flowers main cast to head to the hospital after filming ends
After the filming for KBS drama Boys Over Flowers ends, the main cast for the drama will all make a visit to the hospital.

The first one will be 'Korea's Sunbae' Kim Hyun Joong
. During the first half the drama's filming, Kim Hyun Joong has met with an car accident, but because the filming schedule was tight back then, he had refused the complete treatment, so after the filming ends, he will have complete treatment for his injuries.
His representative said,"He will be hospitalised from beginning of April. He will undergo treatment and close examination for his accident back then, and also have enough rest from the busy filming.
He may be hospitalised for as long as a month
."
"He complaint that discomfort at his waist area and he couldn't walk properly after the accident. He will undergo complete treatment so that the injury will not hinder his promotional activities as a singer."
While for Lee Min Ho, he will also be hospitalised mid-May to undergo a surgery to remove the metal support frame in his leg.
His representative said, "After his London photoshoot and Japanese activities end, he will be hospitalised to undergo the surgery. And then he will hold a birthday party cum fanmeeting in June."
There are also plans for a
full-body examination for Goo Hye Sun, who had her lips sewed after a car accident during filming.
Her representative said, "Her lips had swelled a lot. And with the accumulation of fatigue from her previous activities in the past years and also the car accident this time during filming, this will be a good chance for her to go for a full-body check up. We will want to check if there is anything not right about her healthy at all."
Korean "Boys Over Flowers"'s Secret to Success: Invincible F4
The Korean "Boys Over Flowers", relying on the irresistible looks of the beautiful "flower" boys and the brilliant story line, has firmly grasped the audience's full attention. It has gathered very high popularity. Not only does the drama have the rich and with prominent family backgrounds, F4, even the plain and common Geum Jan Di has her own unique skills. The sports, horsemanship, marksmanship, golf, soccer, swimming, ice hockey, basketball etc, have appeared on the scene in succession, opening the eyes of the audience. Let's take a look together at the irresistible stars below.
Invincible Goo Joon Pyo (Lee Min Ho)
** Spoiler Alert!!! click to hide or show**

Multi-talented Yoon Ji Hoo (Kim Hyun Joong)
** Spoiler Alert!!! click to hide or show**
Independent artistic talent, So Yi Jung (Kim Bum)
** Spoiler Alert!!! click to hide or show**
Able to fight ten enemies by himself, Song Woo Bin (Kim Joon)
** Spoiler Alert!!! click to hide or show**
Capable of song and martial skills, Geum Jan Di (Goo Hye Sun)
** Spoiler Alert!!! click to hide or show**